COECG News
COAG President Zhao Zhisheng Came to Visit Chongqing Project for Inspection and Guidance
发布时间: 2015-04-28 来源:中海总局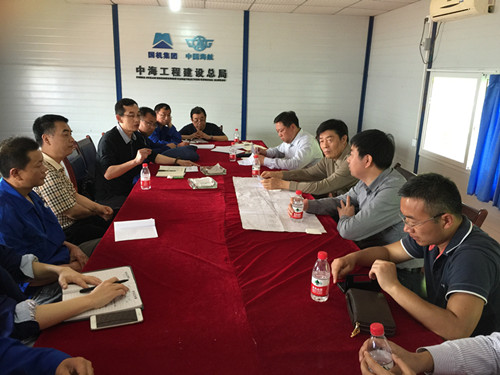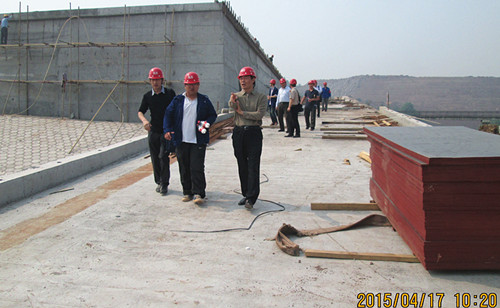 In 17th April, COAG president Zhao Zhisheng and COECG deputy director Liu En, accompanied by Yangtze River Chongqing Waterway Bureau deputy director Xu Xiaoming, construction department chief Li Jianhui, director Gao Yinling, COECG engineering department manager Liu Guoliang and the project leader, Qingdao branch deputy director Zhang Hongchang, came to visit the integrated wharf project of Yangtze River Chongqing Waterway Bureau.
Tirelessly, president Zhao and his entourages examined all aspects of construction links, inquired the influence caused by Yangtze River Hydrology and Meteorology on the project, especially referred to the difficulties in ramp construction that might caused by water level in flood season. After listening to the project overview, construction difficulties, construction progress and key controls of the project, president Zhao give important instructions as follows. In Chinese territory, Chongqing is on the key point of the One Belt and One Road strategy and it is also the industrial hinterland of the Development Zone along Yangtze River.The size of the project constructed by COECG is not large but significant. COECG will focus on projects in Chongqing for better cooperation in the future. It is appreciated for the supporting by the owner, deputy director Xu from the Waterway Bureau. COECG will make a satisfactory answer to the Waterway Bureau as the owner required through resolute, conscientious and quickly implemention. COECG will also be fully prepared and well-planing before the flood season, reduce costs and make strict requirements to ensure quality and pay highly attention to construction safety, especially to aerial-working safety. COECG is responsible for giving solutions by all means whenever it is in need of COECG' s cooperation.
Liu En, the deputy directer of COECG, made request to the project department for catching the favorable time when the water level of Yangtze River is in low water level before the flood season. He also indicated that the construction work should be done to the precondition of ensuring safety, then promoting the quality and efficiency by overcoming difficulties against all odds.
On the behalf of the owner, Xu Xiaoming, the deputy director of Waterway Bureau expressed welcome and appreciation to president Zhao and his entourages. He also proposed expectations to project department for carrying forward work-style of meticulous management and technical skills. Until now, Yangtze River Chongqing Waterway Bureau has had repetitive understanding cooperation with COAG and COECG. Both sides agreed to expand business channels and forward cooperation on specific programs to realize mutual benefit and win-win progress in the future.